How to Use a IPTV Mag Box
BUY A MAG BOX (no longer support)
Using a MAG set top box is in our opinion the best and easiest way to view your UK IPTV, it gives you so much more. By using your remote control you will be able to navigate through the TV Guide other extra features rather easily. It produces a similar menu to the likes of a SKY TV Guide.
All you need to do is enter your MAC address from the bottom of your MAG box to the contact form as requested. If a wrong MAC code is entered then your set top box will not work. If you have any issues at all then please contact us immediately so that we can resolve your problem.
How to set up a IPTV MAG Box
What you will need is:
To register your MAC address, if you have not done this already then you will need to register with us at UKTV for your free IPTV trial. The main thing here is to input the correct MAC address so that we can add you to our servers.
5 minutes so that you can set up the box which is so easy, you will then see why we are ranked No.1 for IPTV with over 40,000 box sets, movies in over 33 countries.
Where is my MAC Address?
If you are looking at this with a blank expression on your face as you've never heard of a MAC address dot worry, grab your MAG IPTV box and turn it over to the bottom and you will see the MAC code. The MAC address looks like this 00:1a:79:00:00:00
5 steps to install IPTV on your MAG Box:
Step 1: Plug your MAG device into the power, connect the HDMI cable to the TV and box, connect the LAN cable from the router to the box or WIFI adapter to the box.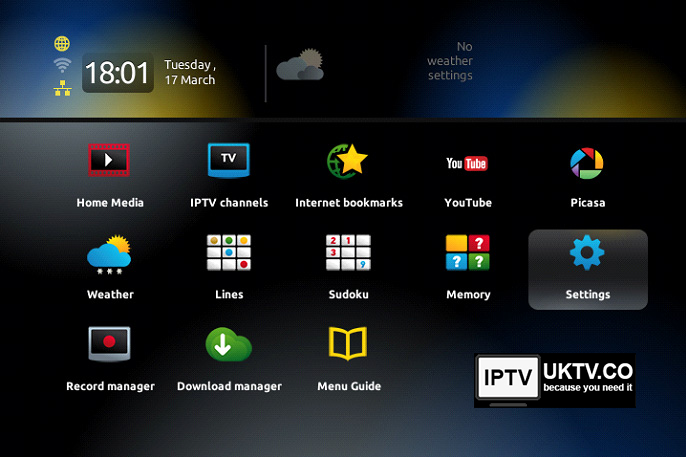 Step 2: When loaded up click 'Settings'. Click on 'System settings' and click on 'Servers'.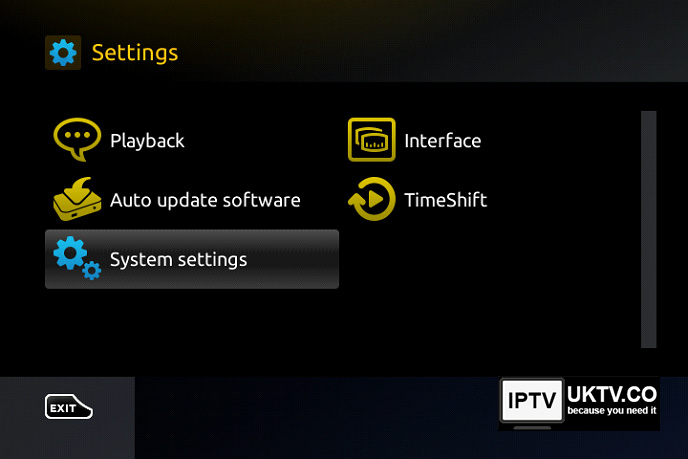 Step 3: Click on 'Portals'.
Step 4: You will see 'Portal 1 name' line enter the following: uktv.co/
Below that you will see 'Portal 1 URL', enter the URL you received in your confirmation email.
Be 100% sure you enter this correctly.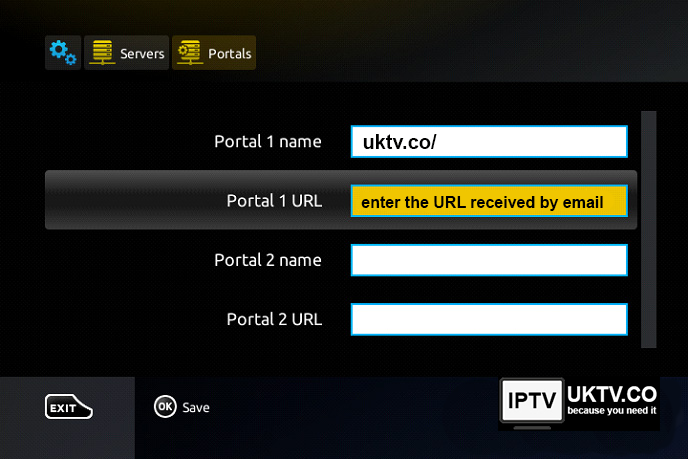 Step 5: When you have done all of the above click 'OK' on your remote to save the details.
Now press 'EXIT' 2 times on the remote control and restart the portal.
You should now be ready to watch your Live UKTV.
NOTE: If you are using a MAG 250 or MAG 256 and your portal does not load it could be that the channels we have are too many for your device.
Let us know about this and we can deactivate most of the other countries that you would never use.
This will reduce the load on the mentioned devices and allow your system to work.
IPTV MAG Box – Your STB is Blocked
Should you see a message on your MAG Box once you have restarted the portal that says 'Your STB is blocked, Call the provider' don't worry it is easy to solve.
It normally means that your MAC Address is not yet active or you have supplied an incorrect MAC code when registering with us.
If this is the case please double check the MAC Address underneath the MAG STB and send it to us again so we can add it for you.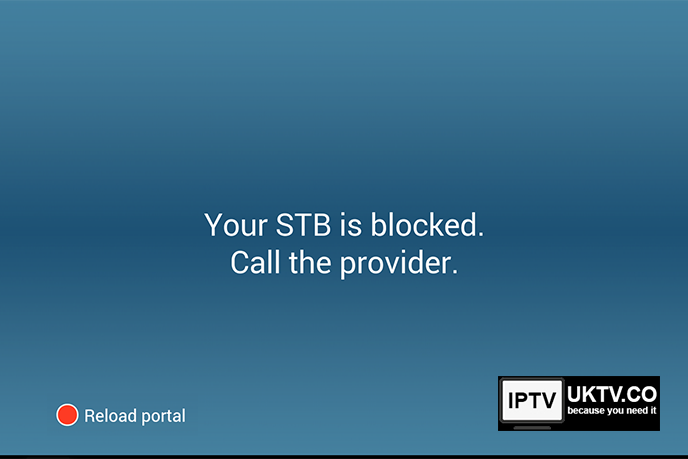 Contact us for more information:
Email: uktv.co@gmail.com
Skype: live:uktv.co
Website: uktv.co